First Visit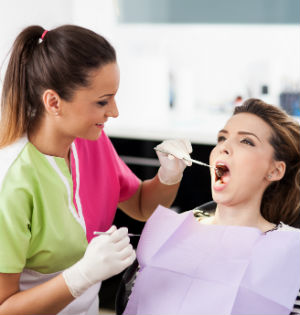 We believe in taking a comprehensive approach to your dental health. Your initial appointment will consist of a complete exam of your teeth, gums and other soft tissue in your mouth, as well as your jaw and the way you bite. We will also use digital x-rays and an intra-oral camera to get highly detailed images of your teeth.
Based on the findings of your initial exam Dr. Mandava will develop a treatment plan explaining your diagnosis and treatment options. We will then schedule a 30-minute complimentary consultation with you to go over your treatment plan and answer any questions you may have.
Please assist us by providing the following information at the time of your first visit:
X-rays (if applicable)
A list of your current medications
Your insurance card, if you have dental insurance
A completed "Patient Information" form
This will allow us to concentrate on taking good care of you on your first visit.
IMPORTANT: We take care of children of all ages. A parent or guardian must accompany all patients under the age of 18 at their first visit and consultation.
Please alert our office if you have a medical condition that may be of concern prior to seeing the doctor or the hygienist (i.e. diabetes, high blood pressure, artificial heart valves and joints, rheumatic fever, etc.) or if you are on any medication (i.e. heart medications, aspirin, anticoagulant therapy, bisphosphonate preparations, incl. Fosamax, Actonel, Boniva, etc.) .
If you have x-rays taken within the last 3 years from a previous dentist or physician, you may request that they forward them to our office by mail or e-mail if images are digital. If there is not enough time, please pick them up and bring them to our office. If additional films are necessary, they can be taken at our facility.